If I was to describe the ways BIRDS OF PREY (AND THE FANTABULOUS EMANCIPATION OF ONE HARLEY QUINN) is one of the worst films ever made I'd never publish this post as it would go on and on and on and on…
Don't even think about watching it
What did I say? DON'T EVEN THINK ABOUT WATCHING IT!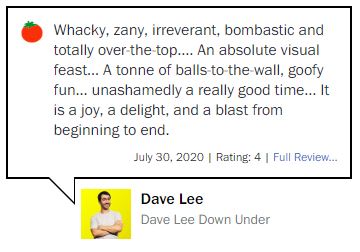 Dave Lee is a fool.
2020 was not a great year for films. I've struggled to come up with a list of films I've enjoyed watching. The coronavirus lockdown has meant there has been very few good films released. I did venture out to see one of the only blockbusters released – Tenet. I won't spoil it by giving my opinion on it as Andrew hasn't seen it yet.
2020 saw the loss of of one of my childhood heroes and one of cinema's biggest stars – Sean Connery
Years ago, I met Sean Connery. And by "met Sean" I mean I was in the same cinema as him. We were both at a film premiere. Sean sat down in front of me and then promptly fell asleep for the whole film. Afterwards I saw him on TV saying how much he enjoyed it! That was good acting.
As I can't think of any particularly good films, here's some TV I enjoyed.
Best Drama – Guilt
Guilt is the darkly comic tale of two brother who accidently kill a man whilst driving back from a night out. It's much funnier than the premise suggests and at only 4 episodes long it doesn't over do the concept. A lean, mean thrilling machine.
The writer of the show is the man who created Bob Servant. A very funny comic creation – a burger man from Dundee with delusions of grandeur. If you don't find his tweets funny then you and I can never be friends.
Best Documentary – The Rise of the Murdoch Dynasty
A four part documentary detailing how Murdoch came to rule the world of newspapers in the UK. The interviews are varied and balanced and it shows clearly who he has earned peoples loyalty and respect as well as why people fear him. It is beautifully shot and edited with the production values of a Hollywood film.
Best Show of 2020 – The Real Marigold Hotel
A spin off of the hit film about pensioners finding love and adventure in a ramshackle Indian hotel shouldn't work. It sounds like an idea Alan Partridge would pitch to the BBC. "Monkey tennis…but with pensioners"
But in a time where people are no longer allowed to gather together, a show about strangers living together, discovering common interests with each other and learning how to challenge how they previously lived is the sort of life affirming show 2020 needed.