January
2019 ended badly. My dad was rushed to hospital before Christmas with mental and physical issues which were later diagnosed as delirium – an abrupt change in the brain that causes mental confusion and emotional disruption. Spoiler: he's much better now. This is not a sad story.
He was transferred to a neurological ward in Glasgow in early January so that he could be helped.
I spent most of January visiting hospital. I would arrive at his ward carrying shortbread, crisps and juice. I would leave with a bag of dirty pants and piss stained trousers. Worst swap ever.
He was supposed to be in the a neurological ward 67. This was the hospital signage. No wonder the folk in the ward have addled minds. My brain was frazzled deciphering this scrawl.
If dealing with his illness wasn't hard enough, I watched Star Wars: Rise of Skywalker. A trouser piss stain on my childhood love of Star Wars! An abomination of a film.
February
At the start of the month my Aunt fell over and broke her hip. She was now in hospital too but in a different ward to my Dad. My Mum was visiting her when it happened. The common connection between my Aunt and my Dad's hospitalization seems to be Mum. Anyone who stays with her ends up in A+E. Remind me not to invite her to my house.
On the bright side, neither my Dad or Aunt liked Custard.I would time my evening visits so I'd arrive in time to have have both of their NHS deserts.
During one of my visits my dad turned to me and said "I've got something important to tell you. I've been thinking about it all day." He then paused. I waited for his words of wisdom or inspiration "It must be boring to be a door" Thanks dad. Very insightful.
Another day I was waiting in the the patients lounge of the hospital when I spotted this magazine. The headline read "Surgery horror!" That will reassure all the patients waiting for an op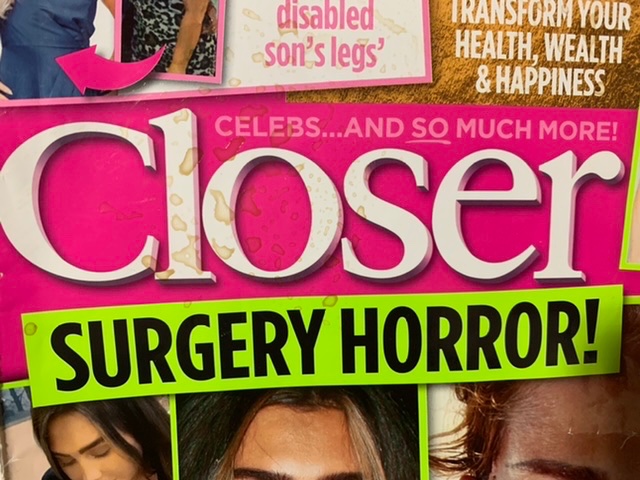 This month also saw more mention of coronavirus in the news but its ok. Its not something we should overreact to.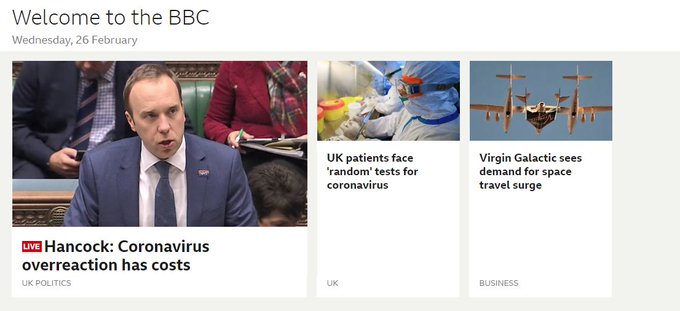 "Coronavirus overraction has costs" next to "Virgin Galactic sees demand for space travel surge" Are the two things linked???
I end the month proposing a solution to the forthcoming cris
Point 3 was a bit harsh but in theory it would have worked! I could have prevented P.E with Joe Wicks and if the price of that was a few people shot then that was a price worth paying.
March
I started working at home in March but before I learnt new words like "Zoom meeting" I went to some large scale indoor events with crowds of people. Remember them?
First up was a concert at the Barrowland ballroom. I didn't realize at the time that Editors would be the last band I'd see live. If so, I'd have picked someone better.
In an event most disease experts would declare insantiy, 2 thousand coughing wheezing Glaswegians spent a night with 89 year old William Shatner. I suppose a man who has saved the world multiple times as Captain Kirk is not going to be scared by a pesky virus.