My local bike shop normally sells two turbo trainers a week. Last week they sold eight a day.
Normally, when I go on Zwift, I see 2,000 other riders logged on to a course. Last week I saw 17,000.
It's fair to say once this crisis is over we will be a nation of very fit cyclists – unless we eat all the chocolate biscuits we are hoarding from the supermarket.
If you have not used Zwift then here is an idiot's guide. That means a guide written by an idiot.
What is it?
It is a virtual cycling platform. You ride your bike on a turbo trainer at home and a Zwift virtual cyclist will ride in the virtual world.
What do you need?
A turbo trainer.
What's a turbo trainer?
A device you attach your bike to that allows you to cycle without moving. The device applies resistance to your back wheel to simulate cycling and to get you to work harder.
Are there different types of turbo trainers?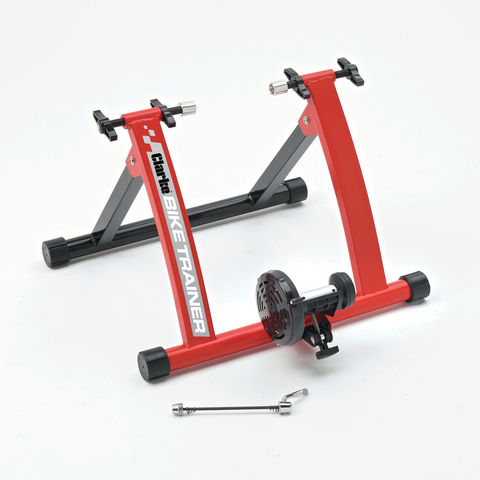 Dumb – This is your basic turbo. It doesn't have any connectivity built into it so it won't work with Zwift unless you get accessory. (see next question).
Smart – This will work with Zwift. Normally, you connect it to your home wireless network. This needs to be the same network as whatever device you are using to run Zwift.
Direct drive – The most expensive option. It will be smart (see above) but instead of riding on your back wheel you attach a cassette to it and ride using that. Normally this is the quietest and has the most realistic road feel. If you can afford one then get one but it won't make you any fitter than a basic model. You still have to train.
How do I make my dumb trainer smart?
You will need to get something to record the speed of your back wheel, like a Garmin or Wahoo speed sensor, and you need something to pick up the signal from that sensor.
The sensors work with two formats Bluetooth and ANT+. If you plan to use Zwift on a laptop then get a ANT+ dongle
https://www.chainreactioncycles.com/lifeline-ant-usb-stick/rp-prod155468
If you use it on your iPad or iPhone then use Bluetooth.
Now what?
Install the Zwift app on your laptop or iPad and create an account
And then?
Zwift will try to find your turbo trainer. It should do this automatically but if it can't find it then check your turbo is on the internet or your Bluetooth is connected to your iPad.
Where to start:
Don't overthink Zwift. There's loads of options, routes, training programs and races but choose "Just ride" to start with.
This will drop you into a virtual world and you can start cycling immediately.
What next?
Download the companion app, enter races or do structured training programs but for now just ride your bike for fun and get used to a whole new world of indoor cycling!
Videos to watch next